Press Kit
This is the place to find the latest press releases and news coverage about the book, along with photos and other press kit elements.
General
Press Releases – current and archived news about Devastation on the Delaware
Flood of 1955 FAQ – facts to clear up some common misconceptions about the flood of '55 in the Delaware Valley
Selected text excerpts for reviews – excerpts from the text give an idea of the language and tone of the book
Author Bio – Mary Shafer's professional background
Author Q&A – the genesis of the book, its process and format and the author's future plans
Media Coverage – current and archived media coverage about the book
Images
Follow these links to find print-quality photo images of the book cover, the author and selected images from the flood of 1955.
Book Cover Image – This link will pull up a high resolution color image of the book's cover, suitable for print reproduction.
Author Photos – high resolution photos of Mary Shafer
Selected 1955 flood images – These images are similar to those in the text, most lent by the owners of private collections. They are used by permission of the owners, and are offered for use in reviews and related media coverage ONLY. The are not to be used in any other published material in print or online, and the copyrights to these images are still held by the owners. If you use them in reviews or feature articles, please credit these generous folks.
Including video and audio related to Devastation on the Delaware.
---
Devastation on the Delaware In The News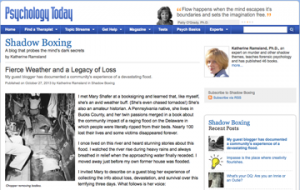 Author Mary Shafer guest posts on Psycho-Forensic author Katherine Ramsland's blog, "Shadow Boxing" – Fierce Weather and a Legacy of Loss
---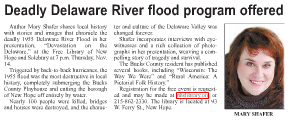 CLIPPING: Bucks County Herald: Author Mary Shafer presents on the Flood of 1955 at the New Hope Free Library – Page D5 (41)
---
Home Movie made in Easton, PA at the time of the flood in 1955
Courtesy Mike Flynn
---
MISCELLANEOUS INFORMATIVE RESOURCES
US WEATHER BUREAU PRELIMINARY REPORT – HURRICANES CONNIE & DIANE AUG. 17-20, 1955
BRAINY HISTORY – HURRICANE DIANE EVENT
WIKIPEDIA: FLOOD OF 1955 – CONNECTICUT
HPC/NOAA HURRICANE DIANE – ABSTRACT & MAPS
NOAA – THE FLOODS OF HURRICANES CONNIE AND DIANE
WIKIPEDIA – 1955 ATLANTIC HURRICANE SEASON
---
See the Bonus Materials area for more related information such as articles, interviews, videos and more.
SaveSave
SaveSave