Home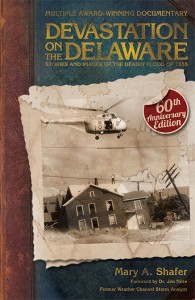 Welcome to the home of the only comprehensive documentary book about the largest flood disaster ever to hit the Delaware River watershed. Caused by two training hurricanes — Connie and Diane — the record-setting flood of August, 1955 changed life in the Delaware Valley forever.
Most folks who lived through the flood remember hearing about that Boy Scout camp that got washed away. The truth is, it never happened. It's simply the most enduring myth of this epic weather disaster. And—as with so many situations—sometimes, real life is scarier than fiction.
August 18-20, 1955: Three terrifying days and nights still remembered with awe in the Delaware River valley. Record-breaking rainfall from hurricanes Connie and Diane abruptly ended a withering drought, but the relief was short lived. It was soon overshadowed by terror and destruction that tore away bridges and ripped houses from their foundations.
From the river's headwaters in the Catskills down through the Poconos, excessive runoff surged down steep mountain slopes and sluiced through valleys on both sides of the river. Tributaries swelled unbelievably, some rising thirty feet in fifteen minutes. Eventually, they all poured into the Delaware, transforming the usually placid waters into a raging, uncontrollable beast.
Mountain resorts were inundated, leaving cars upended in swimming pools. Entire summer camps were washed away. More than 400 children were evacuated by helicopter from island camps in a tense, unprecedented operation.
In the end, nearly a hundred people were dead and hundreds more homeless. Dozens were missing, some ripped from their beds in the middle of the night. Victims' bodies were still being recovered thirty years later—some were never found. Farther downstream, river towns took a beating they would never forget.
Devastation on the Delaware follows the true stories of survivors and eyewitnesses to bring these events to chilling life. More than 100 historical photos and a dozen maps illustrate this definitive account of a tragic event that changed life in the Delaware Valley forever.