Speaking & Events
SPEAKING PRESENTATIONS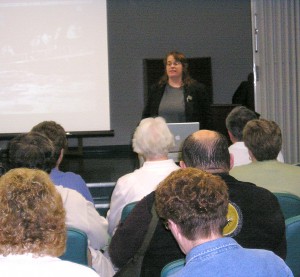 "Devastation on the Delaware:
The Deadly Flood of 1955 in Bucks County"
Narrated digital slide presentation followed by audience Q&A. Author will also read from her award-winning book, Devastation on the Delaware
August 17, 2017 – 7:00 PM at the Riegelsville Public Library, 615 Easton Rd, Riegelsville, PA. Public welcome!
Enjoy a narrated digital slide presentation about the record-holding 1955 flood on the Delaware River, within a stone's throw of where the waters came up!
Share your own story of experiencing the '55 flood.
Purchase a copy of the book and have it signed by the author.
~ ~ ~
OTHER APPEARANCES & EVENTS
Saturday, August 5, 2017:
LOCAL AUTHORS AT THE SANDS – Devastation author Mary Shafer will join numerous other local authors at tables throughout The Outlets at Sands Bethlehem for a celebration of local writers. Meet them, buy their books and get them autographed while doing a little shopping at one of our areas newest outlet malls. 10:00 am – 4:00 pm.
---
Appearances Archive
See a list of the author's past appearances.
---
Want to schedule an author appearance or interview?
Reserve An Appearance Now!
Call 610-847-2456 or toll-free 888-320-9673 or contact us today!
See who's already had Mary's presentation liven up their events!
Need a savvy speaker to discuss the Flood of 1955 or more recent flooding on the Delaware River?
Media Interviews
Ms. Shafer is available for in-person, telephone or email interviews about her book and its topic, the 1955 flood in the Delaware River Valley.
Photos of the author, flood photos, and map images are available in digital format in our Press Room to illustrate your articles.
Looking for an interesting event for your organization's next meeting?
Narrated digital slide presentations and book signings
Ms. Shafer is available for book signings, readings and slide shows.
Mary speaks in accompaniment to a 45-minute Powerpoint® digital slide presentation containing supplemental information and historical and contemporary photos, many of which don't appear in the book. The slide show is followed by a 15-minute audience Q&A session, making this an ideal one-hour presentation for all ages. Presentations are customized to your locale.
Mary will appear at bookstores, gift shops, fairs and festivals, libraries, schools, civic group meetings, historical societies, special events and at other gatherings of those interested in the flood.
---
Speaker's requirements for digital slide show:
The author will bring:
laptop computer
digital projector
3-prong power strip
small projection screen, if needed
Host to provide:
a small table at least 24 in. square, positioned 10-15 feet from projection surface (a blank, light-colored wall will do just fine)
a 3-prong, grounded extension cord to reach the table
a room large enough to seat the group comfortably for an hour, which can be suitably darkened for a slide show
sound system if room is too large for adequate voice projection (usually any more than 50 people)
Please call 610-847-2456 or contact us with any questions about the presentation and author speaking fee.