Links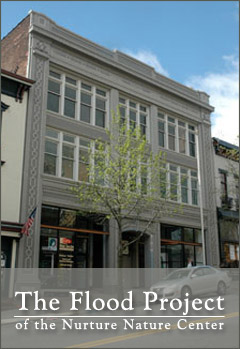 Here we offer links to other sites we believe will be of interest to those with ties to the Delaware River Valley. Some have to do with the flood of 1955, while others are simply river-related. Visit a few to learn about all the moods of the river!
Check out the new Easton Flood Museum.
New York City-based Nurture Nature Foundation, an environmental non-profit organization, is renovating the old VFW building on Northampton Street in Easton into the Nurture Nature Center. When completed, it will house Focus on Floods, a public education project that offers a new way of considering the Delaware's flooding tendencies from an environmental and personal accountability perspective. Stop by to see their progress and you may even be invited in for a tour!
Focus on Floods has already begun pursuing its mission by producing a series of educational videos about flooding in the Delaware Valley that also apply to any location where riverine flooding is an issue. These videos are posted for pubic viewing on YouTube.
Wheel your way through Water Gap history!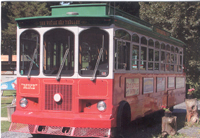 Hop aboard this retro-cool way to tour the Delaware Water Gap,which has seen so much flooding over the years. In fact, Trolley headquarters in the town of Delaware Water Gap has been flooded in every one of the floods of the early 2000s, but they've come back stronger and better each time. Visit them on your next visit to the Poconos, and enjoy your trolley trip through the Gap, as trained guides take you back through history along many points of interest, including areas mentioned in Devastation on the Delaware. You can even buy a copy of the book at the end of your trip in the Trolley Gift Shop!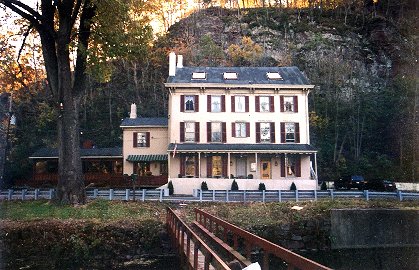 Enjoy some of the finest dining along the river at the Indian Rock Inn!
From its inception during the building of the Delaware & Lehigh Canal, this venerable stone inn has served to feed, entertain and board some of the most colorful characters on River Road. Between gracious rooms, fine dining and the increasingly popular open mic nights for our area's best informal entertainment, if you leave here hungry, tired or thirsty, it's your own fault.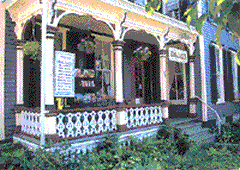 Find out everything Frenchtown has to offer!
A quaint, historic village nestled in a scenic New Jersey valley on the River. A bevy of charming shops including The Book Garden, where you can buy a copy of Devastation on the Delaware! Always something fun going on in Frenchtown, like River Fest, which celebrates the town's watery neighbor with a weekend of art, live music, food and dozens of vendors. Enjoy!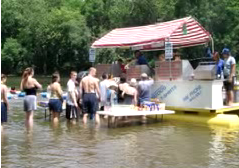 Tube the Delaware River with River Country!
Want to make some lifetime family memories? Tube the Delaware. Our family goes every chance we get, and we still talk about those trips with fondness. If you've never tubed the river, you're in for a treat: hours of the most relaxing time you'll ever spend, and you can even enjoy a halfway-home hotdog treat!
Miscellaneous Flood of 1955 Links
SaveSave